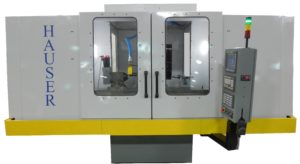 Hauser Inc is excited to introduce The Hauser Broach Grinder to the market.
The Hauser Broach Grinder is a reliable machine capable of grinding from solid and sharpening Flats, Rounds and Spirex Broaches. It can grind flat broaches up to 100″ x 10″ and up to 96″ long on round broaches.
The Hauser Broach Grinder offers:
Heavy Depth of Cut
Fluting from Solid for Manufacturing
Dressing Flute Forms
Dressing Spline Forms
Conventional or Super Abrasive Grinding Wheels
Single Layer Wheels
FANUC CNC Controls
Frequency Control Grinding Spindle through the CNC
Probing Technology
Hauser Broach Setup Menu Pages
Menu Driven Software, Customizable
We use FANUC CNC controls, amplifiers and servo motors on all machines. These are excellent controls and offer the operator ease of use. The Hauser Broach Grinder has operator friendly setup pages and the ability to manually run 2-axes in a spiral or 2-axes at a programmed angle. This is significant time saver for setup.
The Hauser Broach Grinder allows you the ability to take heavy depth of cut when gulleting the broach. This will decrease your grinding time and increase productivity at the optimum spindle speed depending on the application and type of grinding wheels. The frequency controlled grinding spindle has a speed of 1000-9000 RPM.
Hauser Inc has been in business for 24 years in Michigan. Hauser Inc was originally formed to specialize in manufacturing and reconditioning plated grinding wheels and solid carbide cutting tools. During this time, Hauser also began building CNC grinding equipment for in-house use. After completing in-house machine builds, Hauser branched out to build machines for customers.
We look forward to the opportunity to discuss your broach sharpening machine requirements.